Hello there! I realize I have been a very neglectful blog parent this past week, and I'm sorry. The weekend was a whirlwind, but a wonderful one. After work Friday I drove down to CT to my sister's house for my nephew Jonah's 3rd birthday party. It was so nice to spend some time with the family, and now I'm even more excited to go home for Passover for an extended stay in a few weeks. Saturday night I went out with my friend Kellie, our last time before she moves to CT for a new job. Sniff sniff. Sunday was spent running errands plus looking at townhouses/condos for our ongoing house search.
Fingers crossed that the search will be over soon...
So yeah, lots going on, plus limited workouts and lack of home-run meals since last week = rest time for my comp.
Another big thing that happened this weekend: I finished my Whole30! The final result is a 6lb weight loss, significantly improved energy and gym performance, and no sugar cravings! These were all the things I was hoping to get out of this process, so I'm really pumped. The down side is that I went a little cray cray with eating this weekend...which has continued in to this week. I celebrated finishing up the grain/sugar/legume/dairy-free month by having a delicious binge fest on all things sugary and gluteny, which I'm still recovering from. It's a pretty good wake up call to realize why these things are so toxic for
my
body, in particular. Once I had one bite of pizza (taste of cake, sip of beer, sensing a trend here?) I felt like I definitely lost control fast. I've decided to reintegrate protein shakes and some ingredients that have sugar in them that I never found a suitable replacement for (the biggest one being sriracha, since I love cooking Asian food) in to my daily diet, but otherwise I'm going to continue limiting other sources of grains, sugar, legumes, and dairy to one "cheat" meal a week.
We will see how that goes, but I'm hoping that by putting in writing here, all you readers (hopefully more than just my parents, but that would be ok too!) will help me stay honest :)
Workout
So the Coach wrote my a new program Sunday, but after my exploits Saturday night I was so tired by Sunday evening that I crashed pretty early and didn't get time to go over it with him. Plus, I woke up Monday still feeling rather large and not the least bit in charge, so opted for a simple walking treadmill routine. This is one of my favorite standbys from
Sweet Tooth Sweet Life
.
It felt good to start sweating out some of the crap I ate this weekend.
0-5 min, 3.5 mph, 2.0 incline
5-10 min, 4.0 mph, 6.0 incline
10-15 min, 3.5 mph, 10.0 incline
15-20 min, 4.0 mph, 8.0 incline
20-25 min, 4.0 mph, 6.0 incline
25-30 min, 3.5 mph, 10.0 incline
30-35 min, 4.0 mph, 8.0 incline
I'm struggling with a bit of a cold these days, so I skipped a couple of days in favor of rest and today I opted for a quick body weight circuit courtesy of
PB Fingers
:
50 jumping jacks
30 sec. jump rope
20 alternating lunges
30 sec. jump rope
10 squat jumps
30 sec. jump rope
20 squats
30 sec. jump rope
60 sec. high knees
30 sec. jump rope
10 single-leg dead lifts, each
30 sec. jump rope
10 burpees
30 sec. jump rope
60 jumping jacks
30 sec. jump rope
20 sec. mountain climbers
30 sec. jump rope
10 push-ups
30 sec. jump rope
60 sec. plank
I followed this up with a 15 min walk on the treadmill to offset the sweets I've been gorging on. Yeah, fat kid right here.
Eats
Like I said, good/healthy eats have been somewhat limited this week, but I do have a tasty one to share with you. This recipe adapted from
Allrecipes.com
took a bit to cook, but was a cinch to throw together. Here's how it went down:
Stir-fried cabbage, sausage, and apple
Ingredients:
16oz sausage
1 apple, chopped
1 onion, diced
2 cloves garlic, minced
1 head cabbage, sliced
1t onion powder
1t garlic powder
1t paprika
s&p
Brown the sausage in a skillet on medium-high, then add onion and garlic and cook until the onion caramelizes, about 10 minutes. Throw in the cabbage and the spices, cook and stir another 10 minutes. Throw in the apple, reduce heat to low, cover, and simmer, stirring occasionally, about 30 minutes more.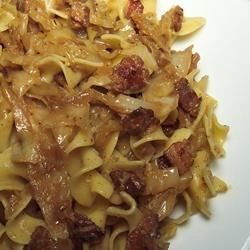 http://allrecipes.com/recipe/fried-cabbage-with-bacon-onion-and-garlic/detail.aspx
The cabbage takes on a yummy sweet flavor which went nicely with the tartness of the apple. Definitely a good veggie-filled standby!
That's my catch-up for now! Hope that you all have some fun weekend plans, and that some of you indulge in some sinfully delicious food like I have :)