Happy Sunday everyone! Hope every one's having a nice little weekend so far, anyone planning to watch the game tonight? I'm still bitter about my beloved Tom and the Pats blowing it in the playoffs but I'm sure I'll be tuning in anyway.
Eats
This morning started off with a nice treat--the Coach and I went to our local diner for breakfast. I generally make us breakfast on the weekends (not to brag but my scrambled eggs are pretty bangin') but the Coach was really pining for some indulgence so out we headed in to the early morning sunshine for some yummy bacon and surly service. Why is it that diner waitresses always seem so annoyed? And the fact that I always make my complicated order with a smile doesn't seem to help...
For me:
Scrambled eggs, bacon and a side of broccoli. Unpictured, black coffee with a couple of ice cubes dropped in to make it palatable. The hardest part of Whole30 so far is the no-milk-in-coffee situation. I tried coconut milk (canned, the boxed stuff has carrageenan plus lots of other preservatives and yucky stuff) but I was only meh. Watered-down black might not be very posh of me but it's better than decaf Debbie (<--cranky monster).
For him: cheese and onion omelet, home fries, a whole mess of toast, plus a slice of French toast. Oh to be a man...
Lunch was a salad with leftover prosciutto and avocado, unpictured because we all know what a salad looks like right? I had the nibbles later in the afternoon so enter my favorite afternoon snack ever: generous scoop of almond butter + banana + chia seeds + unsweetened shredded coconut nuked in to melty goodness. Sounds and looks weird, tastes like the most decadent dessert. Seriously, try it.
I'm trying out a new crockpot recipe today: easy buffalo chicken to add to my lunch salad this week. If it's good I'll post the link! Currently I'm still mourning the demise of my old crockpot (given to me by my mom like 5 years ago). The light lit up when I plugged it in today but after an hour I realized it wasn't heating up. Oy. So I ran out to Target and bought this cutie:
Smaller than the last one which is clutch for our limited storage space.
I'm currently marinating some
chili lime wings
from nomnompaleo.com for game-day dinner and will be cutting some sweet potato fries as an accompaniment. Sad to see that my favorite fry dipper mayo (weird I know but don't knock it until you try it) is totally non-whole30 compliant. I'm too lazy to make my own so I'm hoping these wings rock to make up for it!
Workout
I took this past week off from anything but easy cardio (read: sitting on a bike catching up on blogs on my phone). I pushed myself hard with my lifts before the wedding in Texas we had last weekend and my muscles enjoyed the much-needed time off.
Today I did one of my favorite treadmill walk/run from
PB Fingers
: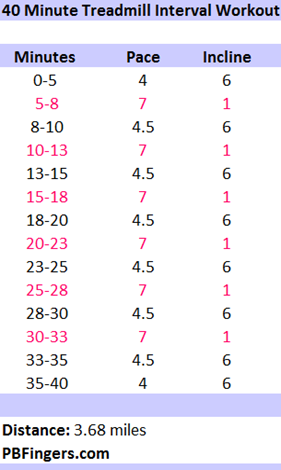 Let me tell you, I was one sweaty-mess after this one. It looks deceiving but those little bouts of running are a serious killer! The Coach is making me a new program for tomorrow so I'm anticipating some screaming muscles come Tuesday.
That's all I have for now! Hope everyone has a fun Superbowl Sunday--I'm rooting for the Ravens just because they're an east coast team. Who are you cheering for?